Shawnee County
Republicans Leadership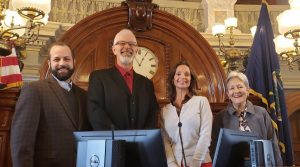 Left-Right, Darren Beckham, Treasurer – Jeff Coen, Vice Chair – Lanell Griffith, Chair – Phillis Setchell, Secretary
Lanell Griffith, Chair
Lanell has great respect for the Republican Party's origins and platform, comes from a long line of conservative Republicans, and is energized by upholding the freedoms "secured" of our beloved Constitutional Republic. She has appreciated the opportunity to serve as Secretary for three terms, a time that she also gained experience as a candidate running for local office. Lanell is a people-person who enjoys knocking on doors for Republican candidates and looks forward to advancing campaign efforts for our local candidates. The issue of Life, Liberty and the pursuit of Happiness (especially Life) are her deepest reasons for becoming an activist. Lanell holds degrees in Mass Communications (AA) and Kinesiology (BS, MS), and relishes social marketing opportunities to encourage the election of the best Republican candidates at all levels of government. She has worked in the fields of corporate wellness, human resources and nonfiction writing. Lanell finds her roles as wife to Brandon and mother to their two sons most rewarding. She currently homeschools, and is delighted to teach a Christian worldview as the foundation for academic learning. The family attends Topeka Bible Church.
Jeff Coen, Vice Chair

Jeff Coen is a lifelong Republican, husband and father of 2 and lifelong resident of Shawnee County. He was elected to the Topeka City Council from 2015-2019 and spent 4 years fighting against both local government corruption and other council members' liberal agendas. Jeff was recently appointed chair of the "Shawnee County Republicans Fundraising Committee", and helped raise a couple thousand dollars for the local party. Jeff really knows how to campaign, and plans to share with other candidates how to ramp up their campaigns with proven ground game strategies. He is the owner of The C-Team Studios, a small business I.T. Consulting firm since 2001. Jeff is an active member at Grace Point Church in Topeka.
Darren Beckham, Treasurer
Darren is excited to serve alongside this slate of proven, conservative officers. He brings experience from working with his native Sedgwick County Republican Party organization to help train volunteers and assist candidates in his capacity as a part-time political consultant. Previously he served as a precinct committeeman in Wichita and managed legislative campaigns in 2008 and 2010. He has lived in Topeka for three-and-a-half years while working in the Capital for former Senate President Susan Wagle and, currently, as chief of staff to Senate Vice President Rick Wilborn. He was elected this August to be precinct committeeman here in Topeka. Darren graduated from Wichita State University where he served as College Republicans chair and student body president. He holds undergraduate degrees from WSU in Political Science and International Area Studies. He also spent four years in seminary discerning a life in ministry; he completed a philosophy degree before coming back to Kansas. He attends Most Pure Heart Catholic Church. Darren looks forward to building strong relationships with precinct leaders, volunteers, and party stakeholders with the goal of deploying the slate's plan for building the capacity of the Shawnee County Republican Party. 
Phillis Setchell, Secretary
PhillisSetchell@protonmail.com 
Phillis grew up in KC, met Warren at K-state. They moved to Chanute in the 70's and to Topeka with their daughter in 1980. Here is where she began a journey of finding out how much Truth matters. Learning the greatness of our Country is based upon the Judeo-Christian foundation is a driving force to appreciate our God-given rights to life, liberty and property and learning how to protect those rights. While being involved with these educational activities, being a lifelong Republican, she started volunteering for campaigns for conservative Republican candidates, since electing good people is the key to good government. Phillis has enjoyed grassroots activities in Shawnee County and around the state since the mid-90's working on various campaigns and holding trainings to grow our grassroots presence. She is looking forward to reaching out to more people with the new SN Co leadership team to recruit, train, and mobilize Republicans in Shawnee County to strengthen our influence on government at the local level and all the way up. Being in the Capitol City gives us access to watch and engage the process of governing and she wants to take advantage of that opportunity. She is a Christian working to honor God, to encourage understanding of our Constitution, as well as uncovering the hidden truth behind the many lies that are perpetrated by media.