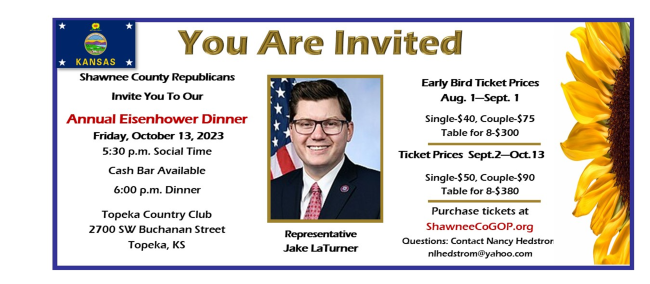 You are cordially invited to the 8th Annual Shawnee County Republicans Eisenhower Dinner fundraiser! 
Enjoy a delicious dinner with friends while celebrating the legacy of Kansas native Dwight D. Eisenhower. We're delighted to announce our own Second Congressional District Congressman Jake LaTurner as our keynote speaker!
The Eisenhower Series is one of the most active and successful of its kind in the country. Each year this Series sponsors one class of outstanding Republican women from across Kansas. It is comprised of events held once a month, typically on Saturdays, at various locations across Kansas. We invite you to explore our excellent Series Curriculum, featuring elected officials, leaders of Kansas industries, and experts in campaign management.
The Men's Leadership Series sponsors one or more classes of outstanding Republican men from across Kansas each year. Our program is comprised of a series of events held once a month at various locations across Kansas.
Shawnee County Republicans 2023 Calendar:
August 31: Pachyderm Club
September 28: Pachyderm Club
October 13: Eisenhower Dinner in Topeka
October 18: Advanced General Voting by Mail Begins
October 23: Early Voting in Office begins
October 26: Pachyderm Club
November 6: Last Day of Early Voting in Office
November 7: General Election Day
November 30: Pachyderm Club